Apart Hotels Petul in Essen and Bochum
Experience the Ruhr Area. Discover Petul!
Labelled a Cinderella and doomed to fall at the end of the coal era and yet today it is one of the most exciting metropolitan regions in Europe. The Ruhr Area is (re)discovering itself. It is lively, diverse and charmingly down-to-earth – and always worth a visit!
The Petul Apart Hotels in Bochum and Essen are the perfect starting point for private and business trips to our district...
Your Online Advantage
Best-price guarantee
Easy and safe booking
Availability & prices in real time
Free cancellation until 6 pm*
Immediate booking confirmation
* not valid during exhibition and event periods
Petul: Convenient. Authentic. Right in the middle.
We want to give you personal space for the duration of your stay. On the one hand with modern, spacious rooms and apartments. And on the other hand with a high degree of flexibility and personal privacy...
8 central locations with good connections – reach any destination quickly. Fair Prices – for every wallet. Arrival and departure whenever you want.  And stylish, comfortable furnishings – so you feel at home even when you're staying longer.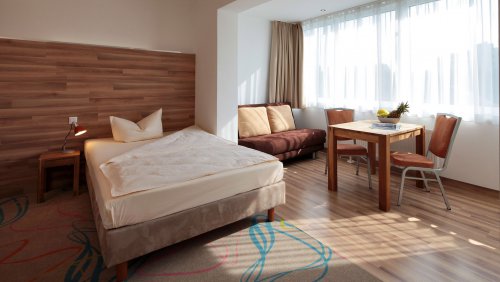 The Hotels
8 Hotels. 2 Cities. 1 Region
Alternative Program
The Friesenhof Peters on the Island Föhr
Ready for the island? Then we have the answer: Sniff a sea breeze instead of big city air in the historic Friesenhof Peters on the North Sea Island Föhr!
Underneath the thatched roof, the former farmstead houses 11 vacation apartments for 2 to 6 people as well as a sauna house with a fitness room. Authentic. Frisian. Cozy.