Fair 'Westfalenhallen' in Dortmund
Hotel rooms for events at the Westfalenhallen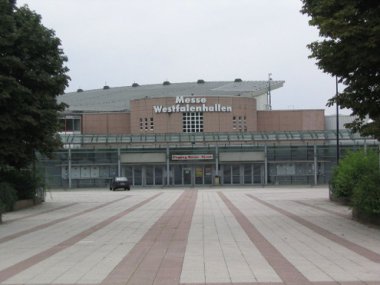 The Westfallenhallen are well-known even beyond the borders of Nordrhein-Westfalen because this large exhibition center, event and congress location directly on the State Highway B1 attracts more than 1.5 Million visitors to Dortmund every year.
The West­fal­len­halle is an event venue with a history. It was founded in 1925 as one of Europe's largest event locations. In the meantime the Westfalenhallen 1 has become a historical monument in Dortmund.
More than 35 different conventtions take place every year at the Messe Westfalenhallen including the Hunting and Dog Convention, the Creativa, die Building convention NRW and numerous other trade shows. Many of the visitors and guests at the Messe Westfalenhallen decide to stay in a hotel in the friendly neighboring city of Essen. The public transportation in the Ruhr region is excellent and everything can be reached easily and quickly.
Are you looking for a beautiful and comfortable hotel room close to the Messe Westfalenhallen? Then ask about our special offers. We wil make your stay in our district as comfortable as possible. 

The drive from Essen to the Messe Westfalen in Dortmund takes about 30 minutes.
 Address der Messe Westfalenhallen

Messe Westfalenhallen
Strobelallee 45
44139 Dortmund

 www.westfalenhallen.de (in German)