The Colosseum Theater
The Colosseum Theater in Essen's city centre is a focal point for a wide range of events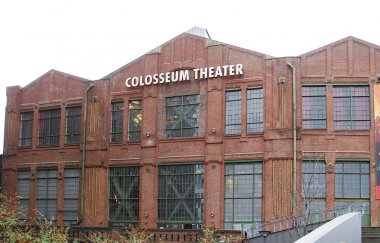 The Colosseum Theater was the well-deserved winner of the "Location Award" in the category Historical Location and Industrial Culture Location in 2013.
The Col­os­seum Thea­ter is located in an historical brick building built in 1900 that used to serve as the industrial hall of the Krupp Cast Steel Factory. The building has been extensively modernised and renovated and has been a first-class event location since 1996.  The theatre can hold an audience of 1,400 and also has a vast lobby, two galleries and a restaurant. The Colosseum Theater is a venue for renowned musicals and shows.
Are you planning on going to an event at the Colos­seum Thea­ter in Essen and you're looking for a comfortable and attractive place to stay? Then reserve your room in our hotel close to the theatre.


 Address Coloseum Theater

Colosseum Theater
Altendorfer Straße 1
45127 Essen

 www.colosseumtheater.de (in German)