Experience the Starlight Express Hotel in Bochum
The world's most successful musical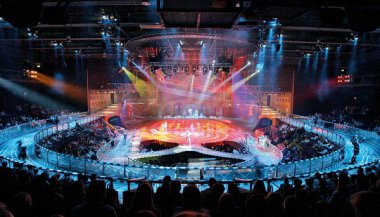 The musical tells of a child's dream about a huge train race. The loveable steam engine, Rusty, competes with the electric locomotive, Electra, and the diesel locomotive, Greaseball. The steam engine's father supports his son. And Rusty loses his heart to the beautiful 1st-class coach, Pearl...
Star­light Express captivates with its unique choreography and the elaborate costumes, some of which weigh up to 18 kilograms. The performers race on roller skates at up to 60 km/h across the 250m roller-skate rink that leads them through the audience.
It has been called the fastest musical of all times. Andrew Lloyd Web­ber's irresistible combination of pop, rock and blues makes it absolutely worth seeing and hearing.
Starlight Express, which can only be seen in Bochum, has had more than 13 million visitors and is in the Guinness Book of World Records as the most successful musical at one location in the world.


 Address Starlight Express

Starlight Express
Theater Stadionring 24
44791 Bochum

 Ticket prices
From € 38,40 to € 113,10 depending on the category and day.

 www.starlight-express.de