Sculpture Tiger & Turtle in Duisburg
A very special landmark designed by Heike Mutter and Ulrich Genth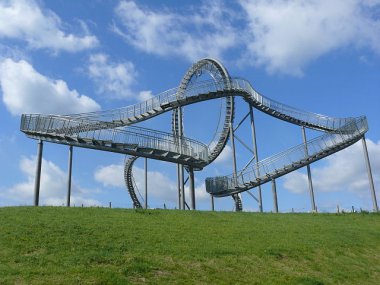 Tiger und Turtle is an imposing large sculpture and landmark in Duisburg's southern district, Wanheim. Visitors can walk through the sculpture free of charge. It's a special highlight in Duisburg and the region. Region.
The walkable roller coaster-style installtion allows visitors a fantastic view from different perspectives and offers an unimpeded view of the surrounding landscape and the Rhein River.
The sculpture was opened with a ceremony in November 2011 following an internationally tendered art competition. Since then it has become one of the most eye-catching landmarks in the western Ruhr region.    


 Address Tiger & Turtle

Tiger & Turtle
Ehinger Str. 117
47249 Duisburg

 Opening hours
Always open

 Admission
Free

 www.tigerandturtle.duisburg.de (in German)