Village Church in Bochum-Stiepel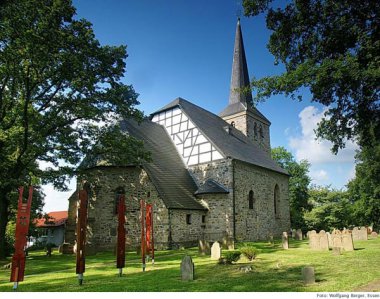 Hilde Claus­sen from the State Consvervation Agency of Münster has said: "Thanks to the paintings from the 12th to 16th century, Stiepel's village church is one of a kind.
Especially the almost 800 year-old paintings from the earliest period of the church make it important even outside of Germany."

The church was built in the year 1008 and is the oldest building in Bochum. Originally it was a single-nave church but was replaced with a Romanesque basilica from 1130 to 1170 and was enlarged to the hall church that it is today in the 15th century.



 Address Village Church Bochum-Stiepel

Village Church Bochum-Stiepel
Brockhauser Straße 72
44797 Bochum

 Opening hours

Tuesday-Sunday

Winter: 3 pm-5 pm
Sommer: 2 pm-6 pm

 www.dorfkirche-bochum-stiepel.de (in German)