The Baldeney Lake in Essen
An oasis in the middle of the city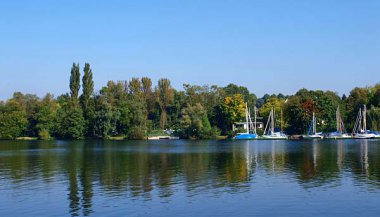 An oasis in the middle of the Ruhr region – the Baldeney Lake in the south of Essen has a water area of over 2.6 km² and is one of six Ruhr water reservoirs. It is an oasis in the city used for leisure and recreation activities including many water sports.
You can walk around the lake on lovely walking paths or discover its banks along the numerous bike paths. Rowing and canoe clubs are located along the lake. And when the weather is good you can explore the landscape and the lake by sailboat.
The Seaside Beach Club on the banks of the lake is especially popular with younger guests and awakes beach feeling far away from the Caribbean.
 Address Baldeneysee

Baldeneysee
Freiherr-vom-Stein-Straße 206
45133 Essen
 What to do at the lake


3 restuarants
Boat rides
yachting school
canoe rides
fishing
 www.baldeneysee.de (in German)