The RATHAUS GALERIE in Essen
A relaxing shopping experience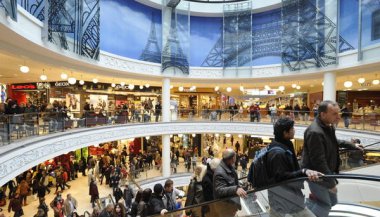 The RATHAUS GALERIE in Essen is located in the heart of the lively Ruhr city directly next to the City Hall.
The RATHAUS GALERIE was reopened in 2010 after lengthy remodelling and is now one of the Ruhr regions most modern shopping centres. There are more than 60 shops, restaurants and cafés including notable stores like Decathlon sporting goods, Maredo Restaurant and many others.
The special part: Because the RATHAUS GALERIE is indoors, you can enjoy your shopping day no matter what the weather. Two parking garages ensure ample parking.
 Address der RATHAUS GALERIE

RATHAUS GALERIE
Porscheplatz 2
45127 Essen
 Opening hours
Monday-Saturday: 10am to 8pm
Real and SB-Warenhaus: 7am to 10pm
 Parking
Rathaus Galerie 1
open 24h daily
Rathaus Galerie 2
7am to 11pm

 Parking fee
Only € 1.- for every started hour

 www.rathaus-galerie-essen.de (in German)