Top Offers - Hotel Am Ruhrbogen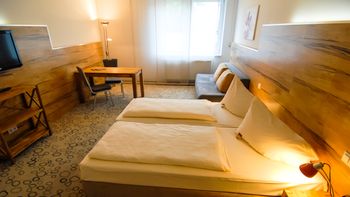 Petul Apart Hotel Am Ruhrbogen
Around Petul
Discover the Ruhr area by bike! Petul Apart can be found at all important locations in the Ruhr metropolis and is therefore your ideal companion. Experience the facets of the graceful Ruhrauen or immerse yourself in the history of mining and the Krupp family. We will bring the Metropole Ruhr closer to you!
The Petul Team welcomes you to the modern Apart Hotel "Am Ruhrbogen"! The apartments in Bochum-Dahlhausen, idyllically situated at the old railway station and the beautiful Ruhr, invite you to stay and discover. Nearby you will find the German Railway Museum, which brings you closer to the history of the railway. Discover, marvel and enjoy.
services:
1x overnight stay in a business apartment in the Petul Apart Hotel "Am Ruhrbogen" in Bochum-Dahlhausen
1 bottle of water and 1 energy bar in the room
Bed&Bike certified bicycle parking space for the entire stay.
Please note that the included services are only valid for the duration of the offer. Additional nights are excluded.
1 Night
Can be extended by additional nights up to a maximum of 3 nights.
from
€ 112.--
(in the room Business Apartment)