Exclusive: Absolute Petul!
Convertible discovery tour Rhine-Ruhr
Start an adventure
Discover and explore the most beautiful places in the Rhine-Ruhr region on our Petul convertible tour. Petul connects the turn of the century with the present – coal, steel, industrialization, exciting history, art and cultural pleasure, green nature: That is the Ruhr Region! Lively, divers and always worth an excursions. But why just read about it?

Get out and see for yourself – take the discovery tour with Petul!


Our four colorful VW Beetle convertibles bring the Ruhr Region exclusively to you. On your own or with guides. 

Whatever you decide: Enjoy the adventure, get out an find special places, connect history, nostalgia and modern times. 
In short: EXPERIENCE something unusual! With our Beetle tour package "Open Air 300" we offer you a very special experience which you can adapt to your desires and share with good friends, colleagues and famil.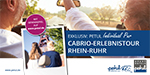 to the brochure



PACKAGES
"Petul convertible tour" Enquiry
Advantages
Discover the Ruhr Region in a new way
Experience exclusivity in the Ruhr region
Design your own tour flexibly & individually
Determine your own destinations
Start directly from the hotel
Encounter diversity & open-air freedom
Benefit from insider tips and secret places
Encourage knowledge, creativity, fun, team spirit, and motivation
Create private or professional team building events
IMPORTANT:
We only have a certain number of convertibles! Please plan ahead and reserve your adventure tour on your desired date in advance.
We will reserve three days exclusively for you after recipt of your reservation.
This offer from the Petul Hotelbetriebs GmbH and Partner is exclusive to the internet. Enquiries can be made through our contact form only.
We will answer as soon as possible!

We would like to thank our cooperating partners, the Revierprofis, www.revierprofis.de, for the friendly support!

You can give feelings!
How about an adventure tour?
Happiness, freedom, nature, desire, energy, excitement, joy, team spirit, joie de vivre….
Give THAT feeling – with a voucher for the Petul converible tour.
You are guaranteed to experience your own kind of happiness!

Your tour could look like this:
Petul Hotel an der Zeche >> Margartenhöhe >> Zeche & Kokerei >> Schurenbachhalde >> Baldeneysee/Schwarze Lene >> Halde Prosper-Haniel >> Gasometer Oberhausen >> Zur Alten Fähre >> Landschaftspark Duisburg-Nord >> Tiger & Turtle >> Villa Hügel >> Petul Hotel an der Zeche
POI Pflege
Petul Hotel an der Zeche

45141 Essen, Deutschland

Margartenhöhe

45219 Essen, Deutschland

Zeche & Kokerei

45219 Essen, Germany

Schurenbachhalde

45219 Essen, Germany

Baldeneysee/
Schwarze Lene

45219 Essen, Germany

Halde Prosper-Haniel

46215 Bottrop, Germany

Gasometer Oberhausen

46047 Oberhausen, Germany

Zur Alten Fähre

45219 Essen, Germany

Landschaftspark
Duisburg-Nord

47137 Duisburg, Germany

Tiger & Turtle

47249 Duisburg, Germany

Villa Hügel

45133 Essen, Germany