Hugenpoet Castle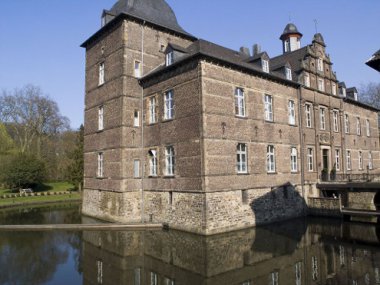 Hugenpoet Castle is located in the southern Essen district of Kettwig and dates back to the 17th century.
The Hugenpoet Castle is a mansion built of sandstone, surrounded by water and with an idyllic castle park. It is located not far from the city centers of Essen and Düsseldorf on August-Thyssen Strasse 51 in 45219 Essen Kettwig.
The district of Kettwig is a quiet and beautifully integrated village with winding lanes and many historical half-timbered houses. The Hugenpoet Castle has been used as an upscale hotel for many years, and the first-class restaurant called Hugenpöttchen is connected to it.
Castle Hugenpoet is also a popular and unique wedding location and many people have already said "yes!" here.
Are you a guest at the Hugenpoet Castle and looking for a hotel or guest house near Schloss Hugenpoet? Then decide to stay in our friendly hotel.
We offer you good accommodations and will make your stay in the Ruhr area as pleasant as possible - your hotel chain Petul.
 Adresse Schloss Hugenpoet

Schloss Hugenpoet
August-Thyssen Straße 51
45219 Essen

 www.hugenpoet.de