Schellenberg Castle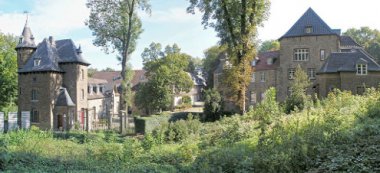 The Schellenberg Castle is located in the southern district of Rellinghausen at the Rennteillichtung in 45134 Essen.
The Schel­len­berg Castle has its origins in the 15th century and has been in family ownership for several centuries. The well-maintained castle, made of sandstone typical of the region, has been on Essen's list of monuments sind the 1980s.
A large park, designed in the style of an English garden, surrounds the castle. In the meantime the Schellenberg Castle is no longer used as a residential palace but for conferences, seminars, training courses and festivities. 
A cookery school is located in the Schellenberg Castle, where interested people can learn the art of preparing and cooking various dishes. 
Are you a guest at the Schellenberg Castle for a private party or business appointment and looking for a pleasant hotel room or motel in the immediate vicinity? Then you've come to the right place, because our fiendly hotel offers you overnight accomodations.
We will be happy to provide you with further information and will make your visit to the Schellenberg Castle as pleasant as possible.