The Bermuda3Eck in Bochum
The meeting place for everyone in the Ruhr region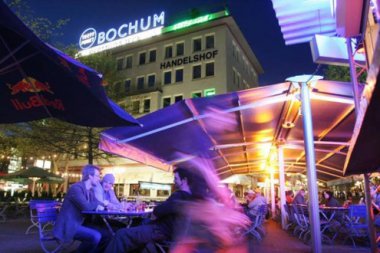 The Ber­mu­da­3eck (in English: Bermuda Triangle) is located in the city centre of Bochum. In this approx. 2km² area, there are around 80 different restaurants and cafes - something for every taste.
This trendy district is well known and popular. Every year more than 3 million guests visit the pubs, cafés, clubs, bars and restaurants.  This nightlife hotspot has something to offer almost every night of the week. The multi-faceted programm of events doesn't leave any room for boring evenings.
There's always something going on, and in particular the mega events "Bochum Total", "Dance into May" or the "Sparkasse Giro", an annual bicycle race, make a visit to this extraordinary meeting place worthwhile.